This page is devoted primarily to persons with an ostomy, ostomate caregivers or a soon to be ostomate. Persons who have ostomies (yes, some people are blessed with more than one) are referred to as ostomates in just about every piece of literature that you can find. So instead of creating another characterization for someone with an ostomy, we'll use ostomate.
My take on where this word came from is that because a person with an ostomy is mated to his/her appliance therefore he/she is referred to as an ostomate! If anyone else can come up with a better story, let's hear it. Now, for anyone, I mean anyone, that has a comment, idea, suggestion, hint or tip that would like to share with others, please feel free to send it to me. I am very thick skinned and can take constructive criticism even on my worst day. It should also be understood that when any of us started dealing with an ostomy we were all novices. This is not something that is taught in school as a life preparation subject.
Advertising space on this page is free to approved vendors and organizations, an ad or logo requires support of the newsletter. Space is allocated on first come, first served. Meaning = order of suppliers on this page is not an endorsement. it means they just got here first or their ad is in the appropriate area !
Click on a topic and you will be taken to that section

First a little background. My name is Mike, am 61 years old, married to Shirley, have three kids and six grandchildren. Currently retired on disability (not due to my ostomy), like to fish and am pretty active around the 50 acres we have. I became an ostomate in February of 1998 due to rectal cancer and have a colostomy. OK, that's my resume', let's get going! Oh yea, I am not as good a speller as my mother would like, if you see an error, be kind and let me know.
Edgepark Surgical - Mail order company for Ostomy, diabetic and other medical supplies. 1-800-321-0591
Back To Contents //// Top of Page

The first tip that I have for you is:

Accept the fact that without an ostomy your life would probably be miserable or worse you could be pushing up daisies. An ostomy is a life adjustment but should not be considered a life change. You can more than likely live your life almost exactly the way you did prior to your surgery.

Join an ostomy support group. There is a wealth of information from your peers. Yes I said peers, they have exactly the same thing you do! The same questions, the same fears. Most of all they have advice, ideas and suggestions. 'Well, I'll just ask my doctor' you say? Fine, does he/she have an ostomy? Where can you find online help if you need to? Try www.ouaa.org (United Ostomy Association of America) our parent organization.

If you have a problem or question that cannot be answered by lay means, immediately consult your doctor or your ET nurse.

---
AARP Pharmacy Services - Mail order company for Ostomy, Incontinence, Home Care and Skin Care products. 1-800-284-4788
Back To Contents //// Top of Page

Next lets talk quickly about doctors and ET's:

While your local mechanic has a general knowledge of automobiles he may not be an expert on fuel injection. While there are many fine GP's out there I suggest seeking out a colo-rectal specialist. Your local support group members probably have some suggestions.

What the heck is an ET nurse? Simply put they are nurses who specialize in wound management, and that is what an ostomy is related to, a wound!. Yep, that's right, nurses who specialize in people just like you and me! Ain't we special?!? Seriously though, these nurses KNOW what they are talking about, so pay attention! Your Colo-Rectal surgeon or your hospital should be able to point you in the right direction or go to their website. They have a search function to help you find an ET nurse in your area!
Hollister - Innovations in Ostomy, Wound Care and Incontinence. Ostomy equipment and supplies.
American Ostomy Supply - Mail order company. Ostomy and related products. 1-800-858-5858
Back To Contents //// Top of Page

Before and after surgery:

DO what you are instructed to do!!!!! Shortcuts and an 'I know me better' attitude will only precipitate problems and could land you right back in the hospital. A whole lot of ostomy problems are due to inattention to the details.

Chemotherapy and radiation are usually recommended if cancer is your nemesis. You may get one or both either before surgery or after or both. While neither is what I would recommend for someone just to try out, both are necessary evils that you must just resign yourself to doing if you want to get better and stay better. Follow your Oncologists and his nurses advice as to pre and post therapy regimens. You might think that you are a tough ole bird and take anything, and you just might be. But if your mistaken and take some shortcuts, again, you will be sorry.

If you experience problems with either the chemo or the radiation treatments, call your doctor immediately. Don't try to tough it out until your next visit. Nausea and lethargy are the most common side effects and there is medication that can help with both. Again, again, again, listen to what they tell you and DO IT!
Ostomy Village 1-877-616-6786. People, products and possibilities. Advertised as a "comprehensive online store".
Nu-Hope Laboratories 1-818-899-7711. One piece skin barrier pouches.
Back To Contents //// Top of Page
---

Appliances, this is going to be pretty long so hold on:

Don't just accept that the brand or style that you come home from the hospital with is your only alternative. That brand and style are what they stock, so look around! As your stoma (that's what they call that new thing on your belly) heals it will change shape and size. It is said that it takes about a year for the stoma to finally settle into a lasting size. Although I can attest that it will change slightly, not dramatically, just slightly throughout your life. Again your local support group can help.

There are a great number of appliance manufacturers out there offering every conceivable way to manage your stoma. There are one piece, two piece, drainable, non-drainable, adhesive, non-adhesive, day pouches, night pouches, long and short pouches, clear or opaque, comfort panels, low profile, the list is almost endless. And the accessories that are offered boggle the mind. The most frustrating thing about appliance's is trying to figure out what some of them are for. Some are for colostomies others for ileostomies and trying to figure it out is sometimes a challenge. Here comes the old support group pitch again. Ask others what brand and style they use and what they like or dislike. Ask them if they ever used the brand you are using. You may get some surprising answers.

Everyone's skin handles the adhesive properties of the wafers differently and this is the biggest complaint heard at support group meetings. A different brand might make the difference, it did in my case as I was slightly allergic to a certain brand, switched and now it is OK. Leakage is another factor and there are a multitude of remedies such as skin powders, sealing paste, and convex shaped wafers just to name a few, again your support group or your ET nurse probably has just the right suggestion.

Call the different manufacturers and ask them for some free samples. Don't be shy, they are glad to get you to try their product. One other note, all have trained personnel for you to talk to. Some even have ET nurses available. These folks are a great asset for trouble shooting any problems that you are having with your appliance.

Obtaining supplies is really very easy. Local pharmacies sometimes stock supplies and almost all can order them for you. Mail order is a popular way get what you need and most will accept insurance and Medicare assignment. Medical supply houses and hospital pharmacy's are another source. And while we are on this subject, say your out of town and your worst nightmare happens, you need something that is right where you left it at home. Most support groups keep an emergency supply closet with different supplies for people just like you! Call the UOAA and ask for a contact in the area that you are visiting or a local hospital, explain your predicament and help will probably be forthcoming. I will be scattering different appliance manufacturer and mail order company links around on this page. Some will have an ad or their logo, others will have in front of their info. Check them out and tell them where you got their name.
ConvaTec Making a difference in people's lives. Ostomy equipment and supplies.


Back To Contents //// Top of Page

Traveling? Always bring along an extra bag for your new friend:

Whether across town or around the world, don't leave home without some sort of an emergency supply kit. The kit should have an extra wafer, wafer hole guide, pencil, scissors, pouch, adhesive remover, adhesive tape, Q-tips (use them to clean up the sealing area on the wafer when you only have to change the pouch), latex exam gloves, small hand cloth, small air freshener bottle and a large sealable sandwich bag. Sandwich bag??? Sure, to put the soiled articles in for disposal. Personally, I keep more than one wafer and pouch in my kit, just in case! What to keep all this in? In the school supplies section of your local department store I bet they have a small insulated type lunch box bag with a carry strap. Not the metal one, these things are soft sided, come in different decorator colors and some have a small plastic box inside them. Folks these things are cheap and are just the ticket for an emergency kit. I have one in each of my vehicles, it stays there under the seat at the ready. I also have one in my work bag. When I fly, I take one with me as carry on luggage, don't pack your emergency kit, keep it with you. They are small and easy to carry. One piece of advice, the ones that you leave in your vehicle - due to climatic changes swap out the wafers every once in a while. Heat and cold could lesson the adhesive properties of the wafer. That's also why I carry adhesive tape in my kit. Yep, your right, I learned a very important lesson that day.

SCISSORS!! He said scissors and I'm going to fly and he should know that you can't take pointed objects on airplanes anymore ... what kind of advice is that??? Take round nose scissors if you are going to fly or pre cut the wafers before you leave. Round nose scissors are legal to carry and almost all the screeners are aware of the exception. One more note on air travel, I carry the round nose scissors on my person when I go through security and openly put them in the little tray with my loose change and such and specifically call the screeners attention to them so that there are no surprises when they X-ray my articles. This method also keeps them from tearing your carry-on bag apart when the X-Ray machine sees them in your closed bag. If you are selected for a body search, tell the screener that you have an ostomy and where it is. If they want a more intimate look at your protrusion ask for a private area. The same goes when they search your bags (travel bags that is), tell them that there are medical supplies in there and ask for some privacy before they scatter them out on the table. I have never had any trouble but have heard some wild stories! I think the majority of the problems could have been avoided by the traveler openly declaring the sensitivity of the situation in advance.

You will learn that different foods affect your bowel and its accompanying odor in different ways. Avoid gas producers and odor stimulating foods before and during travel.
VPI - Makers of non-adhesive colostomy and ileostomy systems. 1-800-843-4851


Back To Contents //// Top of Page

Odor and gas:

Some pouches offer an 'automatic' way to expel gas using a baffle within the pouch and a charcoal filter to eliminate the odor in the expelled gas. Almost all of the pouch manufacturers have a built in odor film that is used in the manufacturing process. KEM, Inc. uses an 'add-on' device to aid in the elimination of gas no matter what style or brand of pouch you use.

Certain foods are infamous gas producers and in some people (like me) gas is a very big problem. There are products that can be taken before and after meals to limit gas. 'Beano' is a natural product that advertises gas reduction when taken with your first bite of food. There is a myriad of products to be taken after you eat. Remember, heavily spiced foods and sauces can act as cathartics (like that word?) and produce gas. I can testify that they do produce copious amounts of gas! A dash of sugar in a carbonated beverage will flatten it, creates a good science project demonstration for the kids too!

Odor is another problem that plagues ostomates. As with gas, certain foods are notoriously odorfull, fish and onions are prime examples (and I love both). Because of the removal of bowel and sometimes the rectum, waste does not 'hold' and allow for water absorption through the colon. As you have or will notice, when it's time to go, it just goes! This creates a more liquid form of waste and sadly a more aromatic mixture. Ileostomates, because of the higher removal of intestine, suffer the worst.

If you want to find out what is causing the gas and odor, make a list of what you eat and drink and keep track of how it affects you. This goes for a more liquidly output also. You may find that pouring your carbonated beverages in a glass reduces the carbonation affect and keeps you from being woken up in the middle of the night by not being able to roll over due to a bulging pouch! Remember, the effects of what you eat may not materialize until hours later.

There are products that can be added to the pouch after each cleansing to control odor. These come in either tablet or liquid form. They are chemically specific to control odor in the pouch. Osto-Fresh loves to send out samples of their in-pouch solution, Visit their website! Some ostomates use liquid mouthwash products or a diluted Peroxide solution to control odor in the pouch and say they have great success. If odor is a problem, or concern, give an odor controller a shot, beats changing the pouch just to achieve odor control.

Devrom is a trademarked product that can be ordered at ostomy supply outlets that is taken internally to control odor. It comes in a chewable tablet form, has a light banana taste. Always check with your doctor as to any products suitability for you.

---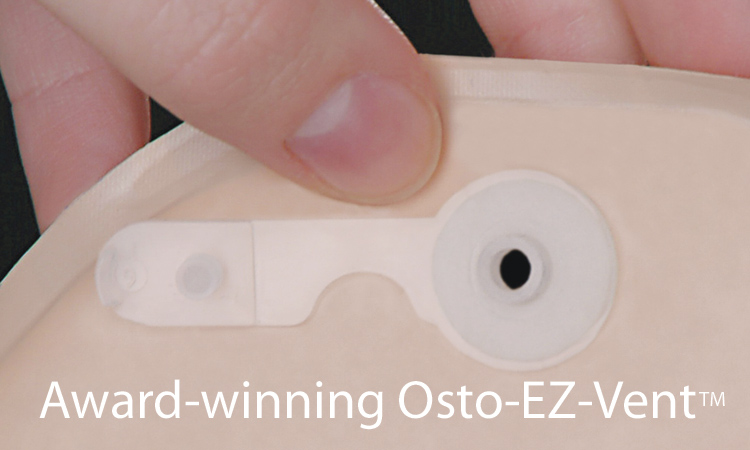 The Osto-EZ-Vent™ attaches to any manufacturers pouch and bonds permanently. Designed for convenience and simplicity, gives user control, releasing air before problems can occur. Water does not effect the use of the Osto-EZ-Vent™ Medicare Reimbursable, A4366
Visit their website or call 1-888-562-8802.
---
Marlen Manufacturing - One piece convex disposable system for colostomies and ileostomies.
Back To Contents //// Top of Page

Medications and general health:

Ostomates must be very aware of how drugs work and what to take and what not to take. Always check with your doctor before taking any medication. When getting a prescription from your GP or other doctor who may not see a bunch of ostomates, remind him of your condition and ask if the prescription will work OK with you due to the fact that the 'holding' period in your colon has been reduced and as such may limit the absorption time of the medication.

Ileostomates, because of the fact that their stoma is in the upper intestinal tract area, must keep in mind that any medication they take must be able to be absorbed fairly quickly. Otherwise it will be expelled through the stoma with no benefit to you. Slow release medications may not dissolve enough to give you the full benefit of the drug. Liquid medications are best in that they can be readily and immediately absorbed in your digestive tract. Ask your doctor if you can get the medication that he is prescribing in liquid form. The same theory holds true for over-the-counter medicine. A 24 hour slow release cold pill will probably be 'in-the-bag' in short order. Many ileostomates have reported finding whole pills in their pouch.

Colostomates, while having more colon available for absorption, still must be cognizant of the fact that there is no 'hold time' in the colon for waste and as such, absorption is again limited. For the most part colostomates can take regular pill form medication and still get its full benefit. It is still wise to ask your doctor or pharmacist for their thoughts.

Water water everywhere, but nobody drinks it! Ostomates and ileostomates especially, need do drink plenty of water. Not drinks that contain water, plain old water. There are a number drinks that while they contain water are also diuretic by nature. That means that they actually have a dehydrating feature to them. Ever noticed that one cup of coffee can produce two cups of urine? Beer is notoriously diuretic. Ileostomates need to remember that when they drink a glass of water it has less time to be absorbed because of the less intestine that you have for it to travel through. This necessitates more water being gulped down throughout the day to make up for this loss. People with some other form of urinary diversion need plenty of water the same as ileostomates. Liquid is passed much more quickly and again, water absorption is limited. Colostomates need plenty of water to keep things running smoothly. Smoothly is the operative word here if you get my meaning. While colostomates have more colon for absorption there is still no 'hold' time'.

Bulk and fiber is another key to a healthy ostomate. Bulk and fiber containing foods are foods that have indigestible qualities to them and as such, parts of it will pass through the digestive system undigested. But, as it passes through, it is constantly scrubbing the walls of the colon and pushing left behind particles with it. It also keeps your colon working by always having something that it needs to keep moving through the system. Regularity comes as a by product of this constant movement.

Obtaining regularity goes along with the water, bulk and fiber routine. You really want to keep regular. Reason is that if you have a bowel movement every day the amount is less than if you have one every three days. That makes sense doesn't it? The kicker is that now you have a pouch with limited capacity to catch this waste instead of, how shall I phrase this, an open toilet bowl with unlimited capacity. Nothing worse than not having had a movement for a couple of days and then on your way to work, bam! Two days worth all at once! This is another reason for the emergency kit with you at all times.

Irrigation is an option for colostomates to obtain regularity. Irrigation, what a term! You ain't watering your garden, why that term? Oh well, I'm sure there is a reason and it sure sounds better than enema. But that is exactly what you are doing. You are giving yourself an enema. The benefit of irrigation is that you 'train' your bowel to expel the waste at the same time every day and in turn don't need to wear a pouch. Just a cap which attaches to your wafer and the confidence in that you won't have a surprise movement with only the cap in place. The drawback is that you must irrigate at the same time every day. Remember, now that you have trained your colon to be ready to work at say 7:30 every morning, if lunch time arrives and it hasn't heard from you yet, it may just get tired of waiting and do it itself. Where is my emergency kit??!! Not everyone can irrigate and you need to check with your doctor or ET nurse first. A special irrigation kit is also needed to perform this f unction. Very important is the fact that you must put your colon on a schedule for irrigation to work properly.
<!kevrom ad-->
The Parthenon Company - Makers of Devrom, the chewable internal odor tablet and Devko an external deodorant. Also for Ostomy supplies 1-800-453-8898

Back To Contents //// Top of Page

Appliance maintenance:

Wafers - Not much to do here. If you apply it properly and remember it is there when roughhousing with the kids you should be in good shape. Going swimming or getting in the whirlpool or hot tub? Get some waterproof adhesive tape and tape around the edges of the wafer. Wafer adhesive is designed to resist water to a point. But it is still not an epoxy adhesive, water and perspiration will affect its qualities. Wear time is different for each person. There are so many variables that affect wear time, skin condition, activity, heat, cold, perspiration. A general rule of thumb is 4 to 10 days for wear time is what you can expect. Although many ET's will tell you not to exceed a certain number of days without a change, this is due to a concern of the condition of the skin under the wafer. It needs to be cleaned and checked out. No other condition will affect you more than allowing the skin under the wafer to become damaged. This is all that the wafer has to hold onto, and if you have skin problems, man have you got a problem! If you notice a skin problem developing, call your doctor or ET immediately! Another little tip; when it becomes necessary to change just the pouch and not the wafer, try to get as much stool as you can away from the locking mechanism on the wafer. Use a Q-tip to clean around the sealing mechanism also. You will appreciate this advice when you try to apply a new pouch and miss your mark by even just a little. You take the chance of getting stool on the sealing mechanism and end up having exposed stool on the outside of the flange, it may also create a void in the mechanism allowing odor to escape or worse allowing the pouch to accidentally release.

Pouches - Pretty easy to maintain depending on personal preference. The pouch, by nature, is a disgusting little creature that has a lot of work to do. It must be secure enough stay connected to the wafer. Must be constructed strong enough to resist abrasion. Should have some sort of built in odor barrier. And, most importantly, have a secure sealing mechanism at the top and bottom. Almost all of the modern pouches offer all of this. Now some people change the pouch every time they have a movement, some change daily, some change when the odor barrier starts breaking down. There are those who thoroughly clean the pouch when emptying it, others simply squeeze the waste out, clean the closure end out and go about their business. Some of the 'daily changers' clean out the pouch and let it air dry for use another day. There is no right or wrong answer here. It depends on you, how you feel about your pouch and how you want to handle the situation. Odor in the pouch is a problem that can be helped by the addition of some sort of odor control liquid or tablet added to the pouch after each emptying. There are a number of these on the market. Another tip; spray some PAM or other liquid vegetable oil in your pouch, it will help the bad stuff slide down to the bottom of the pouch for easier cleaning. Also, Hollister makes a lubricating/odor product that works pretty good. Only one very important concern here, DO NOT let the Pam or any other lubricant get around the top sealing mechanism, these lubes work pretty good and can allow the pouch to separate from the wafer easier than normal. Been there, done that!!

Skin - As I said before, the skin around the stoma must be kept problem free for you to have a successful relationship with your wafer. The hole in the wafer should be cut a little larger than the stoma size to allow for movement of the wafer and stoma without one coming into contact with the other. This is so the wafer does not damage the stoma. The skin in this little area needs to be protected from feces and other skin damaging waste and so the use of a stoma paste was developed. Stoma paste is a somewhat thick product that is made of the same material as the ring of the wafer. Application is tricky and messy to say the least. Some apply a bead around the stoma itself, others apply it to the wafer prior to attachment. Warming the tube up prior to use makes the paste easier to work with but it is still a sticky mess. There are also paste strips that are easier to handle and work very well. Shaving around the stoma area is a fact of life for us hairy bellied men, women too but to a lesser degree of frequency. Shaving should be done with an electric razor to minimize the chance of nicking the skin with a blade type razor. Hair needs to be removed to allow a good adhesive seal under the wafer and to keep it from ingrowing and creating a sore spot. Please be careful of using hair removers, they can be caustic to the skin. Before using one try it on an area away from the stoma and then put an extra wafer over this area and see if there are any side effects. Electrolysis is another idea but, as with the hair removers, try it out on another area of the skin and see if there are any side effects. Skin preparation wipes are available to be applied to the skin prior to wafer attachment to keep the skin healthy. Some say prior to every new wafer attachment, put some skin preparation on the skin. Others say only use it when your skin needs it. Personally, I use it when the skin looks like it needs a little tender loving care. A byproduct of skin preparations is that is dries pretty darn sticky and could help with the adhesiveness of the wafer. They also make a powder that can help. My only thought on continuous use is that, as with any medication, overuse may create an effectiveness tolerance rendering the product useless. No facts to back that statement up and I'm sure I'll hear from the manufacturers on that subject. Just my thoughts on it. If you do damage the skin and need to keep adhesives off of it, they do make wafer systems that do not use adhesives. They are held in place by belts. I've never spoken with anyone who has used one, but I assume that greater attention is required to make sure it stays in place. Adding oatmeal to your bath water will also help relieve itchy skin problems. Eating oatmeal will also firm up your stool and provides fiber. Why not enjoy a bowl of oatmeal while soaking in the tub?
Back To Contents //// Top of Page

Boy, you talk about a mess! Getting private insurance or Medicare to pay what they are supposed to pay is sometimes a nightmare. This part of the webpage is probably going to be the hardest to write and the most trouble to keep up to date. I promise to do my best.

The first piece of advice can be to always refer to the supplies that you get as Ostomy Appliances and Ostomy Appliance Supplies. The word 'appliance' is the key. It is a universally accepted term to relate to something that is a necessary item to replace the function of a body part. It is also the magic term that insurance companies understand. Another term they like is DME (Durable Medical Equipment). Click here to learn more about the DME terminology. Hey, everybody has their lingo! Computer geeks have terminology that you and I don't understand, but when you talk to them about a problem that you are having, you better know the secret word.

Some suppliers will do the paperwork for you to file with your private insurance and Medicare. Some don't, I suggest dealing with one that will. The ones that will are our friends, the others just want our money. We have enough problems without having to unnecessarily do paperwork that we are unfamiliar with. They can certainly learn how to do it and be more able to keep up with the never-ending changes in policy.

Medicare & Medicaid - Both allow for ostomy supplies. It is almost impossible to keep all the rules and regs up to date on this website, as they change. Best advice is to contact your supplier and ask them what is covered and what is not. Keep this in mind though, local suppliers don't keep up with the rules and much as the national folks do. Also, almost all national suppliers accept assignment of your Medicare/Medicaid, resulting in a zero or low out-of-pocket situation.


No Insurance? Give this website a visit: http://www.ostogroup.com/index.htm It is for those without insurance or need a way to buy discounted products. They do not augment your existing insurance or medicare. This is for those without insurance or those who need extra supplies and need a discount outlet. Another discount service is Direct Buy Medical.

Back To Contents //// Top of Page

Let us know how you liked or disliked our site

Back To Contents //// Top of Page

© 2000 Rapides Ostomy Support Group / Rapides Ostomy Support Group